2017 NASPEs Award Winners & Nominees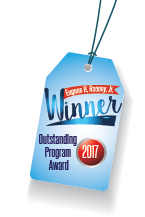 The State of Utah's Department of Human Resource Management (DHRM) reorganized much of its enterprise level positions into a Center For Excellence (CFE) which has resulted in strong push for the development of progressive HR practice. The CFE reconciled the development of many functions that were vertically managed (recruitment, learning development, employee relations, compensation, classification, data analytics, etc) into one cross functional team lead by our Chief Strategy Officer (CSO). This has empowered DHRM to single task on the highest developmental priorities with a constant stream of cross-functional expertise.



This team of Training Administrators and IT staff identified a need for a statewide learning management system, gained leadership support and funding, and then worked through several challenges and overcame barriers to move the State of Delaware from 45 separate and distinct ways of tracking training, ranging from paper files to outdated legacy systems, to a single centralized system that provides training resources to employees from any computer or device at any time.
Workplace Resolutions is a service for a group of state employees who are in conflict. During the resolution process, a team of mediators meets with each member of a conflicted group individually to listen to their concerns and develop recommendations for the group.
The Abusive Conduct Prevention program is designed to enhance the professionalism in the workplace for State of Utah government agencies. Specifically, the program seeks to prohibit conduct intended to intimidate, humiliate or cause unwarranted distress along with conduct which exploits a known disability. Simultaneously, the program encourages increased ethical conduct and leadership with integrity through professional development training.
Provides data-driven, justifiable compensation recommendations that addressed the areas most in need of compensation increases.
---


Deanne Mosley was appointed Executive Director of the Mississippi State Personnel Board in January 2012 and served in that role until served in that role through February 2017.
According to Mississippi State Treasurer, Lynn Fitch, "In her five years in the position, Deanne worked tirelessly to continue to improve the delivery of services to our State entities and in turn to those we serve throughout the State of Mississippi. Her 'MSPB+' initiative continues to result in improvements for the State workforce and cost savings for the taxpayers of Mississippi. Deanne is a leader who exemplifies true character and one who others seek to role model."
Mosley received a Bachelor of Public Administration and a Juris Doctorate from the University of Mississippi. A graduate of Leadership Mississippi, the Certified Public Manager Program, and the State Executive Development Institute, she was appointed by the Mississippi Supreme Court to its Task Force on Gender Fairness in the Judiciary and served as its Co-Chair.
Reflecting her strong interest in education and training, she has taught legal courses at Belhaven University, Jackson State University, and Millsaps College.
A native of Meridian, she has been honored as a "Top 12 Leading Business Women in Mississippi," a "Top 40 Under 40," and one of the "50 Leaders in Law" by the Mississippi Business Journal. The past recipient of the Mississippi Bar Association's Outstanding Young Lawyer of the Year Award, she was inducted as a Fellow of the Young Lawyers Division and elected Chair of the Mississippi Bar's Government Law Section and Chair of the Labor and Employment Law Section.
In 2013, Deanne was honored by the Mississippi Association of Personnel Administrators with its Award of Distinction.
She has served in several leadership positions with the National Association of State Personnel Executives and is the first Mississippian to serve as NASPE President. In 2015, she was named a Henry Toll Fellow by the Council of State Governments.
---


The Success Series Webinars of Louisiana's CPTP (Comprehensive Public Training Program) are regular monthly programs offered on third Thursdays of each month. The interactive workshops are designed to highlight topics that have been identified as vital to the professional and personal success of employees through competency studies, surveys, and evaluations. The programs run an average of 45 minutes and feature specialists from throughout the state, along with polls, quizzes, chats, and best-practices sharing.
See the videos here: https://goo.gl/eAEGRN


Delaware's showcase page provide a platform to spotlight a specific business unit, advertise job openings, and provide a glimpse of the state's culture.
For Commonwealth of Kentucky HR administrators, both physically and organizationally decentralized among Kentucky's 200+ Executive, Legislative, and Judicial Branch agencies, the newsletter serves as a consistent and reliable source for important policy, procedure, and system updates.
The Career Climb and Compensation Infographic is a simple visual of how a state employee's career can advance, along with how and when a state employee may receive discretionary pay. The infographic also contains a glossary of pay types with definitions, related Civil Service
Rule(s), and who is eligible for the particular pay type.
An in-house video entitled CPTP Competency Model for Louisiana State Employees (https://www.youtube.com/watch?v=hciWyAjjsGI). It is hosted on the Comprehensive Public Training Program of Louisiana YouTube Channel (https://www.youtube.com/channel/UCsYQ4_9w4ksDnPoFxChjrlA). The video uses animation to illustrate the development of the competency model, how it has been utilized, and the next stages in the project. The video was written, recorded, and animated in house by State Civil Service staff.
A series of in-house videos created as trailers for our eLearning courses and are hosted on the Comprehensive Public Training Program YouTube Channel. These videos were written, recorded, directed, produced, and animated in house by State Civil Service staff.
---


In 2015, State Civil Service resumed responsibility for allocating all classified positions, a task that had been delegated to state Agencies. Recentralization of this process was an effort to ensure greater consistency in the allocation of positions as well as provide efficiencies throughout the state. To address this, the Department State Civil Service launched the electronic Position Description System (PDS), allowing Agencies to upload position descriptions electronically to the Compensation Division.
Originally, State Civil Service was allocated $100,000 to contract with an outside company to build a system. By creating and building the system in house, $100,000 of unused funds has been returned to the state general fund.
"The program's success is measured through metrics detailing the number of position descriptions received, completed and the turnaround time," said Byron P. Decoteau, Jr, State Civil Service Director for Louisiana. "Since its inception the three-day turnaround has been met and often exceeded with position descriptions being returned within a day of being assigned. We were able to reduce our published turnaround time and process position descriptions on the day they were received instead of the next business day."
The PDS conveniently serves as a database for all position descriptions that may be viewed at any time.

The State Certified HR Professional (SCHRP) credentialing program is designed to allow HR professionals in Oregon state government to be recognized for mastering state specific human resource areas.
Human Resource Management
The Role of HR in the Public Sector
Legal Considerations in Human Resources
Self‐Awareness and Relationship Management
Human Resources as a Strategic Business Partner
The goal of the HR Master Series is to enhance HR leadership across state government by moving HR from the transactional model to the current best practice, which is to have HR help drive strategy within an agency.
This council meets monthly and reviews all matters related to HR services becoming better, faster, cheaper, and monitors the implementation of operational treatments. This collaborative forum is where proposals to change HR work is evaluated, matured, and sequenced. It is also a forum of training to aid existing employees in growing into the desired future state of HR.
The predictive analytics tool is a regression model and corresponding user‐friendly excel document ("tool") that allows State HR to run relationship analysis on variables that may impact employee turnover.