Research and Surveys - Members Only
A majority of NASPE research is available only to dues-paying member states and organization and can be found by clicking here.
Examples of this research include:
HR Architecture Survey - 2017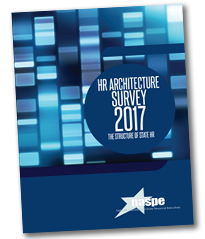 As states experience lingering fiscal challenges they are looking to make their operations more efficient. As a result, states are reviewing their service delivery models and organizational structure - and in many cases implementing significant change. NASPE surveyed its membership on HR organizational structure, service delivery, and functional responsibilities in 2017. Forty-one states responded to the survey. You can read an Executive Summary here
. Full data is available to NASPE members by clicking here.
Consolidated Survey data covering a number of topics in state government HR administration, including HR Architecture, HR Metrics, Workforce Planning, HR Information Technology, and state subject-matter experts.
For more information pertaining to research, NASPE performs contact Leslie Scott at [email protected]
---
State Workforce Issues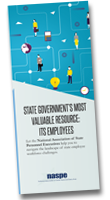 NASPE is recognized as a resource to other national organizations (and states), and by utilizing the resources developed by our Workforce Issues Working Group, our members can speak on workforce issues or other requested topics. Additionally, members are able to customize the presentation materials to address the specific needs of the group to whom they are speaking.